These days more and more people are selecting castles for organizing their destination wedding. A castle would certainly provide you a grand location where you can celebrate the most special occasion of your life. There are various enchanting castles in Scotland and one of them is the Castle Ardverikie which is known all around the country for its appealing features. The castle was built in 1870 in the Scottish baronial style and it is located in the Scottish highlands. Presently this castle is also being used for the Scottish television series known as the "Monarch of the Glen".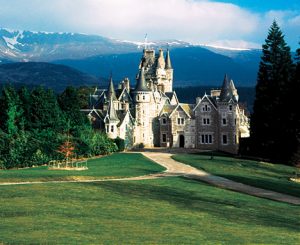 The Castle Ardverikie is a very popular place where numerous high class and luxurious destination weddings are organized every year. If you also want to organize your wedding at this place then it is highly essential for you to make all the booking in advance. Some of the special features of this castle are mentioned below.
1.History of the castle
The castle was built in the year 1870 in an extremely elegant style. The castle mainly belonged to the royal family of Scotland. Near the castle you can easily locate numerous landscapes like woods, lochs and mountains. The area is very suitable for organizing attractive summer and spring weddings. The Ardverikie castle estate also includes many luxurious self catering cottages where you can organize a holiday trip with your family members. There are various fun filled activities that you can enjoy in the nearby areas.
2.Enjoy great Highland Activities
The castle not only provides you a pleasant stay but it is also a place where you can enjoy various great highland activities. This castle is a modern center of some great activities and adventure where you have something for everyone. The breathtaking countryside surrounded by lush green meadows can really mesmerize your senses. If you are interested in horse riding then you can also bring your personal horse to this place. Well cleaned stables are provided for the accommodation of your beloved animals.
3.Nearby attrctions
Till date, this majestic castle is one of the greatest private houses located in the Scottish highlands. This castle is just perfect for all the honeymoon couples as here they can really spend a peaceful time with each other. You can really get a very good view of the King Fergus's Island from the highlands. A great inland beach is also located three miles from the castle.
I am sure this castle would certainly provide you all the special facilities and services that you need for a comfortable stay.