Las Islas Cies is a beautiful beach with the crystal blue water that gives you the best vacation in Spain. As the name reflects Las Islas Cies is an archipelago of three islands. It is situated on the coast of Pontevdra in Spain. These beaches are located on the Atlantic coast. When you talk about the natural beauties Las Islas Cies definitely strikes to be on the top priorities. They display the complete picture of the beautiful and gorgeous creation of the nature.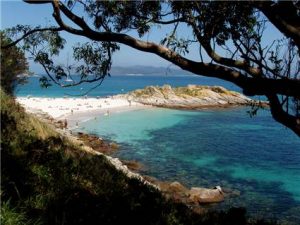 It consist of three islands
1.San Martino
It is also known as "Saint Martin" and it is the southern island.
2.Monteagudo
It is the northern island. It is also known as "sharp Mount"
3.Do Faro
It is known as the "Lighthouse Island" or "Isla do Medio" and it is the middle island.

Las Islas Cies consists of the following beaches
1.Rodas Beach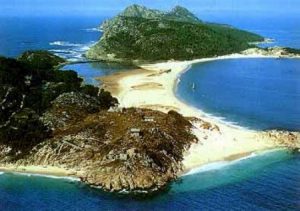 This is one of the most famous beaches of the world. This is considered to be the main beach where the people prefer to visit. This beach has its own importance due to the attraction it provides. It is also known as the Wheels beach. It has calm and crystal clear water. The sandy beaches and the pine forests enhance the beauty of this place. All these sites make it more attractive and the most desiring place to visit.
2.Figueiras Beach
It is approximately 300 meters long and is on the north of the island. It consists of fine sand on its coast. In summers it is open for the public. As this area is a part of national park so there are no bins for waste. So if you want to visit here be sure to take your debris with you back.
If you are in mood to travel one of the best beaches in the world you must visit here. There are many supermarkets and little restaurants, serving their specialty which is delicious sea food. There are lots of visiting centers that provide various facilities to make your holiday life time memorable.
Staying in Cies Islands
The Idyllic campsite is the only place for accommodation. It is open from June to September and also during Easter.
So, if you want to make your holiday special you must prefer this place. Make sure that you visit this beautiful place with your family during vacations.